The Bachelorette is the only reason I look forward to Mondays – and I am slightly bitter to admit that.
I spend nearly half of the two-hour long episode rolling my eyes at every cheesy date, cheesy make-out session, and cheesy confession of love that is aired. If you don't watch The Bachelorette, you cannot possibly fathom the degree of cheesiness that its viewers are exposed to.
With that said, I continue to look forward to Mondays. So much, in fact, that my excitement for the next episode grows exponentially as each week goes by.
I have come to the conclusion that I have established a genuine love-hate relationship with this show. Here is the breakdown of it:
LOVE-HATE – Watching Emily be the ultimate player. 
It's kind of awesome to watch a girl be the player for a change. It's amusing to watch 25 men try so hard to get the attention of one girl – especially since they become so competitive and jealous. What bothers me, though, is watching her stick her tongue down multiple guys' throats in the same episode, same day, and often on the same date. It's gross.
LOVE – Ridiculously good-looking guys.
I get my monthly  yearly dose of jaw-dropping, drool-worthy eye candy in just one episode of The Bachelorette. That's really saying something, especially since I don't consider myself to be deprived of attractive men.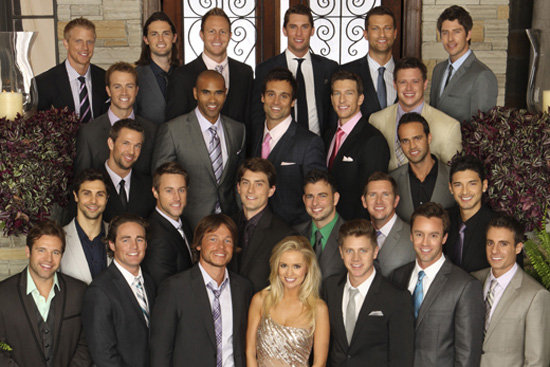 HATE – Most of these guys think they are the modern-day version of Shakespeare. 
Just when I think somebody has said the cheesiest line of the season, another guy opens his mouth with something to top that. These guys are unusually eager to say sappy things or pour their hearts out to Emily. In a recent episode, Jeff goes to Emily while they are making out on the floor of a library in Prague, "There aren't many people I could lay on the floor and be this happy with".
Oh, and speaking of Shakespeare, here's an image of Ryan kissing Emily while they reenact Romeo & Juliet on a date.
LOVE – It improves my asshole radar.
As a keen observer, it's nice to test how good your judgement is on which guys are sincere and which are not. For instance, when Ryan and Emily first met, I was blinded by his good looks. A few weeks later, I realized he was just an arrogant asshole who needed to go home. If I can improve my asshole radar just by watching The Bachelorette, then maybe this show isn't so bad after all.
HATE – Dating is not like this in real life.
Over the course of the show, Emily and her potential lovers travel across the world as they get to know each other. From Croatia to England, Bermuda to Curacao, their dates include private helicopter rides, picnics on mountaintops, and intimate fireworks display as they kiss below the stars… because that happens on your average date.
Anyways, that's enough skepticism and ranting for one post. On a brighter note, I think I'm falling in love with both Arie (see above) and Sean (see below). Dear Emily, I'll happily be the rebound for whoever it is you do not choose. I'm just joking, right?!
Shamefully looking forward to next Monday,
L.